One Day Away: the OMP Logistics Advantage
Oconomowoc may have a long name, but it is a short distance from practically anywhere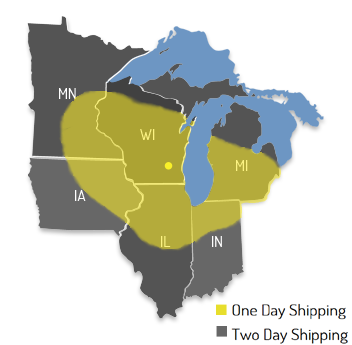 Oconomowoc Molded Products makes the most of this geographic benefit by keeping shipping lead times for our injection molded parts to a minimum. Here's the performance level our customers commonly take for granted:
Next day delivery of finished components to most of Wisconsin, Minnesota, Iowa, Indiana, Illinois and Michigan.
Second-day delivery to every corner of these key Midwestern manufacturing states
This lightning-fast turnaround is our customers' everyday expectation, and never comes with an extra rush charge
When it comes to delivery of injection molded parts, our philosophy is No Surprises…except when the product hits your loading dock earlier than expected!
Let us show you how responsive Oconomowoc Molded Products can be. Contact our Support Team for a free quote or design assistance at 262-567-1313